I was invited to present Briselier to some employees of L'OCCITANE Group in celebration of International Women's Day. Come with me and I will tell you about what I talked about and how I got this opportunity.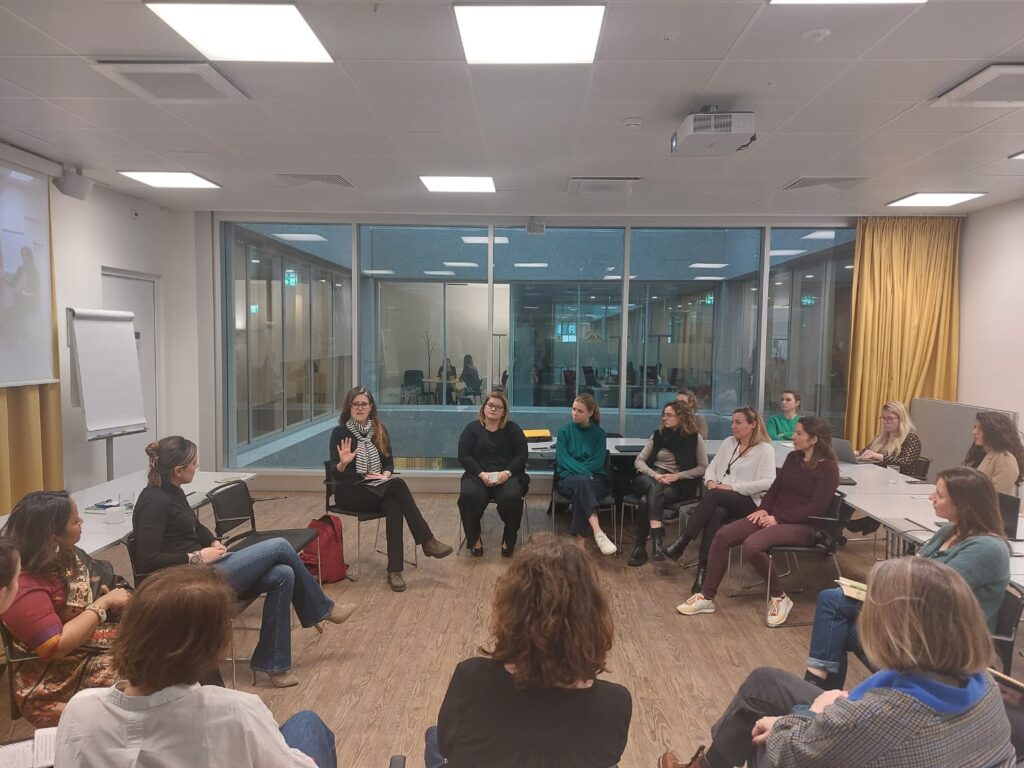 The March 7th presentation
A sign that I could read "Our actions should have a positive impact on people" jumped out at me when I arrived at the company headquarters. Surprisingly, it inspired me and made me feel confident to present my proposal.
Through the studies I do for the production of content for the Briselier Blog, I learn about the connection between the appreciation of craftsmanship, domestic work, independence, and female emancipation. In addition, I seek to explain the many reasons why we should encourage and empower women artisans, rather than asking for discounts on their products.
During the presentation, I told a little about the Renaissance and the reasons why handicrafts are devalued historically. Above all, I emphasized that handicrafts are 90% female and often a way for women to work from home, take care of their children, and have a source of income.
Therefore, I insist on the urgency of encouraging and empowering women, valuing their work and creating a support network so that they can become independent through their entrepreneurship.
How did I manage to introduce Briselier to L'Occitane?
The introduction of Briselier to the L'Occitane Group happened through our weekly participation in a startup accelerator for migrant women. Through meetings with a coach, I receive tasks and objectives to be fulfilled within given deadlines. The accelerator, in turn, has contacts with large companies and acts as an intermediary for us to have the opportunity to present our work.
In addition, IFPD – Alter Start organizes fairs, events, and networking opportunities, which allows us to make contact with potential partners and clients. Therefore, it was through these connections that the opportunity to present Briselier to L'Occitane arose. This demonstrates the importance of being part of a community and having the support of a project that acts as a bridge between small businesses and large companies.
Who is IFPD?
IFPD (International Foundation for the Development of People) is a Swiss startup accelerator that aims to empower women entrepreneurs and migrants by helping them launch their businesses on the market.
The project offers a range of training programs, including mentoring, coaching, business classes, and access to a network of contacts and investors. The goal is to empower women to become entrepreneurial leaders and generate positive impact in their communities.
Since its inception, Alter Start has helped many women entrepreneurs launch and grow their businesses by providing the support and guidance needed to overcome challenges and build a sustainable future for themselves and their communities.
Why was L'Occitane interested in Briselier?
L'Occitane is a company that has a commitment to local communities. And, one of the ways to practice this mission is through the encouragement and appreciation of artisanal products.
The company collaborates with local artisans and small producers, providing resources and support so that they can thrive and keep their cultural traditions alive. Thus, it helps build the independence and autonomy of local communities. This approach also aligns with Briselier's vision, which advocates valuing artisan work, female emancipation, and caring for the planet and its resources.
–
At the end of the day, I learned the importance of building a community that believes in and shares your purpose. Without a doubt, I was very grateful to have had the opportunity to introduce Briselier to the L'OCCITANE Group and thus promote the valorization of handicrafts.