Starting the an atelier/studio itself is the first step for the artisan to transform his main ideas into a product. But, as encouraging as it is, we know that starting a studio from scratch may not be an easy task.
Therefore, we have separated three tips that will illuminate your ideas in the process of creating and developing the studio. These tips are part of the experience of creating Briselier and were fundamental to our history. Check it out: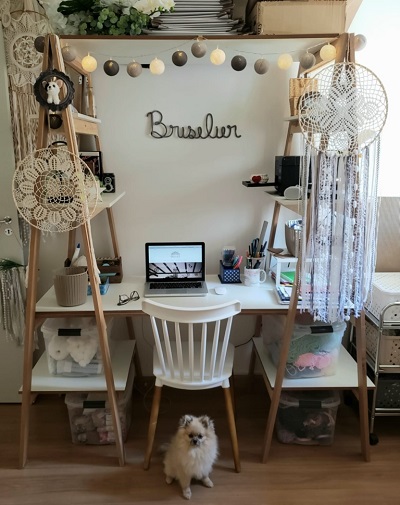 1) Do an analysis of the environment / competition
First, before starting any business, it is very important to carry out an environmental analysis. "What would environment analysis be?" I can explain it to you…
Doing an environmental analysis is researching where and how the crafts you are going to sell are being represented in your city, in your state, in your country and in the world.
Through this research, you can understand what opportunities and challenges you may find. In addition, you will understand what are the main characteristics and ways of selling the product and some other information that helps when putting your ideas into practice.
See how useful it is? That way, you can prepare for the creation of your studio and still look for ways to stand out in the market.
2) Create your own identity
Speaking of standing out, the golden tip is: your studio must offer products and services that are different, unique and charming.
Attention: seeking inspiration is always cool, but take advantage of this resource only as a stimulus, not for copying, okay?
Thus, when creating your own identity, you guarantee an exclusive product with a style that stands out from the rest. This will certainly attract the attention of those who consume your service and will help you to create, not only the identity of your brand and product, but also a bond of loyalty with your clientele.
This tip is essential for the creation and development of your studio. Finally, think that if you don't have your own identity and produce more of it, why should the customer choose your product instead of the other artisan's?
Do you understand how important it is? Developing your own style is always the best option!
3) Be professional
As a craftsman/woman, you know that you are guaranteed to make the product. However, you cannot relax and fall into your comfort zone.
Finally, always try to be as professional as possible. Invest, for example, in the final finish, in new products and also in techniques to improve your creations more and more. Pay attention also to the other fronts of the atelier, such as customer service, communication, design and sales.
That is, think that to buy your product the customer needs to see professionalism in his work. This shows confidence and gives a "push" so that the customer always wants to buy more. Getting better is the craftsman's everyday homework!
---
As a result of these tips, you can now prepare for the creation of your own studio. Ah, but don't forget that all the steps must be well studied and done with professionalism, huh? Remembering that Briselier made a calculator especially for you to calculate how much you earn per hour worked, it's worth checking out by clicking here.
In addition to being done with a lot of love and interest to stay with that style that is all yours. What's up? Let's start your workshop now?
Don't want to read? Check this content in vídeo (only in Portuguese).